PRESIDENT SLEIMAN'S VISIT TO AUSTRALIA
His Excellency the President of the Republic of Lebanon General Michel Sleiman has undertaken a landmark visit to Australia, the first by an incumbent Lebanese President (15-20 April).
President Sleiman, accompanied by First Lady Wafaa Sleiman, met with the Governor-General of Australia, Quentin Bryce, at the end of his visit to Canberra, the first leg of the trip.
Governor-General Bryce praised the "pioneering and effective role of Australians of Lebanese origins, who deserved the confidence of the Australian people".
President Sleiman thanked Australia for its unwavering support for Lebanon's sovereignty, independence, and territorial integrity.
Prime Minister Julia Gillard reserved a warm welcome for President Sleiman. Prime Minister Gillard and President Sleiman acknowledged the strength of people-to-people links between Australia and Lebanon.
President Sleiman flew also to Sydney for talks with New South Wales Premier Barry O'Farrell. O'Farrell announced that he would visit Beirut this May.
President Sleiman will also travel to Melbourne, where is scheduled to meet with Victorian Premier Ted Baillieu and members of the Lebanese Diaspora.
President Sleiman and the accompanying delegation will return to Beirut on 20 April. The accompanying delegation includes Deputy Prime Minister Samir Mokbel, Foreign Minister Adnan Mansour, Information Minister Walid Daouk, and Public Works Minister Ghazi Aridi.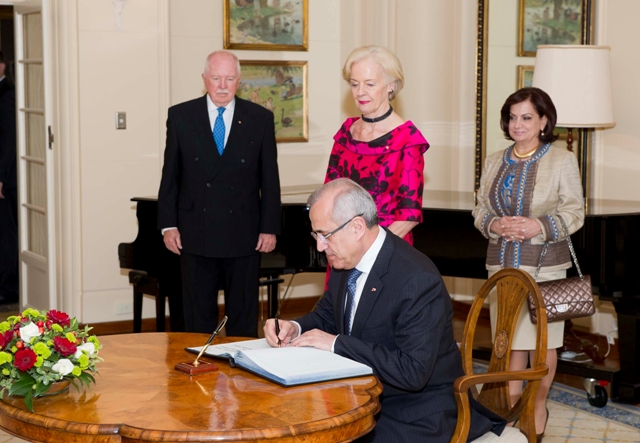 President Sleiman signing the visitors book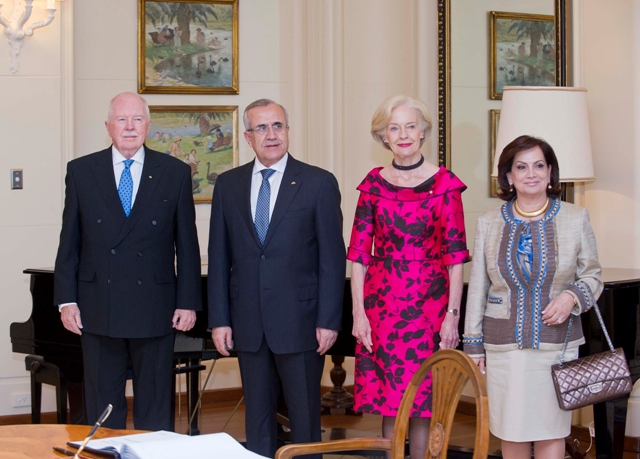 President Sleiman and Governor-General Bryce, flanked by their respective partners, First Lady Wafaa Sleiman and Mr Michael Bryce