The call for proposal under the Direct Aid Program is now open.
The Australian Embassy's Direct Aid Program (DAP) has now opened for proposals for the fiscal year of 2021-22 through an online service powered by Smartygrants. The round will be open from 16 June until 30 July, 2021.
To learn about the online application process, please check Help Guide for Applicants (smartygrants.com.au)
If your project meets our DAP guidelines, you may complete the application via this link: https://dap.smartygrants.com.au/Beirut21
Direct Aid Program
The Direct Aid Program (DAP) of the Australian Embassy is a flexible, small grants program which focuses on relieving humanitarian hardship and advancing developmental objectives in Lebanon through projects that are consistent with Australia's international relations and public diplomacy objectives. Each year, the Embassy's DAP committee assesses proposals for small development projects from individuals, community groups and non-governmental organisations engaged in development activities on a not-for-profit basis.
We will look for projects that:
Are participatory in nature, and have involved the beneficiaries in the identification, design and management of the project.
Address the needs of vulnerable or disadvantaged groups, including women, children and the disabled
Address poverty alleviation, community health, environment and education, human rights, rural development or gender equality.
Have a lasting developmental outcome, either by creating infrastructure or building sustainable human or organisational capacity.
Have a budget of maximum USD15,000,-
Can be completed by 31 May 2022 (approval may occasionally be given for projects that span two financial years – this must be agreed prior to the commencement of the project).
We will not support projects such as:
Those for the purchase of vehicles
Those for any activities that cannot demonstrate a direct developmental outcome, as listed above
Micro-finance projects or micro-credit schemes that involve a return of money
Those involving payment for items of a recurrent nature, such as staff salaries, office rental and utility costs, spare parts, supplies, routine maintenance or repairs.
Commercial ventures.
Please check the 2021-2022 DAP full Guidelines and timeline .
To look at the projects the Embassy funded in 2016-2017, please click here
To look at the projects the Embassy funded in 2015-2016, please click here
To look at the projects the Embassy funded in 2014-2015, please click here
To look at the projects the Embassy funded in 2013-2014, please click here
To look at the projects the Embassy funded in 2012-2013, please click here
To look at the projects the Embassy funded in 2011-2012, please click here
To look at the projects the Embassy funded in 2010-2011, please click here
To look at the projects the Embassy funded in 2009-2010, please click here
Australian Government Response to the Syrian Humanitarian Crisis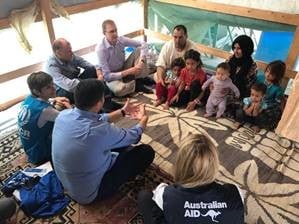 The conflict in Syria has created one of the biggest humanitarian crises in the world today. According to the UN, more than seven years of war has left 13.1 million people in Syria in need of humanitarian assistance. This includes 6.1 million people who are internally displaced.
A further 5.6 million Syrians are registered refugees in neighbouring countries, including Lebanon, Jordan, Turkey, Iraq and Egypt. Over the past eight years, Lebanon has been a generous host, welcoming around 1.5 million displaced Syrians [the highest per capita number of refugees in the world]. This has placed unprecedented strain on the country's economy, infrastructure and public services.
The Australian Government is providing $220 million in humanitarian assistance over three years to support people in need in Lebanon, Syria and Jordan (FY2016-17 to FY2018-19). Prior to this, Australia provided more than $213 million in humanitarian assistance in response to the crisis since 2011. This included $87.5 million for assistance to people inside Syria and $125.7 million to help refugees and their host communities across the region.
In Lebanon, we are helping to improve protection services, increase access to education and livelihood opportunities for refugees and vulnerable Lebanese, as well as providing emergency assistance so people can meet their basic needs. Our assistance is delivered through UN agencies, NGOs and the Government of Lebanon:










Publications
08 October 2018: Removing Barriers: The Path Towards Inclusive Access - July 2018 (Humanity & Inclusion)
Videos
Plan International & International Medical Corps
COUNCIL FOR AUSTRALIAN-ARAB RELATIONS GRANTS PROGRAM
The Council for Australian-Arab Relations (CAAR) was established by the Australian Government in January 2003, as an initiative to strengthen ties between Australia and Arab countries.
The council for Australian-Arab Relations runs yearly grant funding rounds. The CAAR looks for projects that enhance the economic, cultural and social relations with the Arab world. The objective is to provide 'seed funds' for innovative projects that will develop long-term people-to-people and institutional links between Australia the work of CAAR, please visit www.dfat.gov.au/caar.